Andalusia, Spanien. Da Droog79 zwar in Vejer de la Frontera wohnt, eigentlich aber aus England kommt, haben wir dieses Interview so gelassen wie es geführt wurde, in englisch. Last week we had a message in our inbox from an artist called Droog 79. He told us that we should come to Andalusia and the region around Cadiz when we start to travel again. We already have three articles in the pipeline for Andalusia but he was right…we missed everything between Cadiz and Barbate and as Droog 79 lives in Vejer de la Frontera we thought "Why not do an interview?".
Hey Ed! First of all a big Thank you for getting in contact with us and doing this interview. As you are originally from England please tell us a little about yourself and what brought you to Vejer de la Frontera.
Hello, well I arrived here in a roundabout way and kind of by accident. After quitting our jobs and selling everything we owned back in 2008, my girlfriend and I moved to Mexico and spent about 18 months living in Puerto Escondido and travelling around Central America. To restore our funds we spent a difficult year teaching English in Korea and saved up to buy "Betty Beast", a beautiful 1984 Bedford campervan.
In 2011 set off along the West coast of Europe with the idea that we would like to live abroad, but with no concrete plans. After a few months meandering and surfing through France, Portugal and Spain we arrived in Vejer de la Frontera, a typical whitewashed andalusian hilltop village on the South West Atlantic coast. We instantly clicked with this place: the friendly people, the relaxed lifestyle, the unspoilt beaches and natural surroundings and so stayed to do a Spanish course. When the school unexpectedly offered us teaching jobs we made the decision to give it a try and 3 years later here we are: married, with a daughter, teaching and pursuing our art & design careers and still loving it!
As the majority of travellers from northern countries stop travelling around the region of Sagres – tell us what makes it worth to trip down more south to Andalusia:
Well, I dont want to invite the whole world down here! I´m quite happy that most surfers stop at the Algarve or just pass by on the way to Morocco, but that is one of the good things about this area: it´s still relatively uncrowded, if you stay away from the main peaks or explore a little you can often surf alone or just with a few others. Unfortunately the Algarve creates a massive swell shadow that stops us getting big consistent swells like Portugal but the waves here through autumn and winter are fine for me and the climate to us Northern Europeans is fantastic. As I mentioned before, the pace and attitute to life here is laid back, friendly and fun-loving so I can´t complain!
 Our site is mostly about travelling with a car or van for surfing. What do you think about this type of travelling?
For me this is simply the best way to travel and surf in Europe. We had some really great times during the months we lived in the van. I like being forced to live simply and narrow down my possessions to the essentials, I like the freedom of being able to pull up anywhere and make a meal and spend the night and beat even the local fishermen onto the beach in the morning. I like meeting new people for a day or two of swapping stories and sharing waves then parting on our separate ways. However I have to say, I think this kind of travel can often appear more appealing and relaxed in instagrammed pictures and in retrospect than it is at the time – there´s nothing glamorous about emptying the chemical toilet on an industrial estate in the midday sun!
 Travelling for a longer period of time or moving somewhere else like you to build up a new home means a lot. We always thought that it is about making a decision between the need for safety or the desire for freedom. Tell us why it´s worth to follow the second:
Yes, that´s right, very few people can have it all. We have had to make a lot of sacrifices to follow this lifestyle. "Living the dream" is not the same as living in a dream. The harsh realities of life follow you everywhere and embracing freedom and pursuing the lifestyle you think is right often involves losing security, money, the close ties of family and old friends and the ease of life in your home country. This has to be balanced against the freedom and lifestyle that the new place offers and not just at the beginning in the honeymoon period but long term, when the shine has worn off. I keep finding that the more simple I try to make my life, the more complicated it becomes!
There is a fine line between being brave and being stupid and I´m not sure which side I have landed on yet!
I´m not saying either one is right for everyone, it completely depends on your personality, there is a fine line between being brave and being stupid and I´m not sure which side I have landed on yet! All I can say is everyday I feel lucky to live here and have the time to enjoy it. I may not be saying that in fourty or fifty years but who knows? For me it´s like I don`t really have a choice, there are things that call you, obsess you, take over your life and they are literally irresistible.
For me, giving in to these "pulls" is the only way i´m going to be happy, and I´m not talking about wild hedonism happiness here, but more a slow-burning contentment that comes from the pull of the sea, spending time with my family, drawing and painting and trying to pursue the kind of life that is right for us despite the difficulties and setbacks and expectations of others – the things people regret not doing on their deathbed.
I found a quote from Nat Young on the film "Litmus" for which you did a poster-redesign for the London Surf Film Festival 2013: "I wish that when they asked us: 'What is surfing?' I would have said it's a spiritual activity, and not just a sport, because that's what put us on the wrong track…" 
If it´s "spiritual activity" or something else – How did Surfing influence your way of living so far?
I think Kelly Slater said about surfing
"It's like the mafia. Once you're in – you´re in. There's no getting out"
and this is so true, I sometimes say that Surfing has ruined my life…
but in the most beautiful way possible.
Ever since I caught my first green waves during a French exchange to Hossegor back in 1993, surfing and the thought of the sea took over my mind, my imagination, my choices – basically my life! Another quote that explains it so well is this one from Jacques Cousteau:
"After the magical moment my eyes opened up to the sea
I was no longer able to see, think and live as before"
However, my pull ever seaward has been to the detriment of other things in life like money, career, and security but along this journey I have come to value different things as important. "Lifestyle" is an overused word that has lost its meaning these days but to me surfing and skating truly are lifestyles, as in you organize your life around "the ride" and this pursuit affects every aspect of your life, and the things you see and do because of it change who you are.
I spent a lot of time in all sorts of dark corners of the city at all hours as a teenager, just to find places to skate and by doing that you see all sorts of crazy, weird, wonderful and seedy shit: ("the city´s ripped back sides" as Iggy Pop put it) and it opened my eyes to a lot of new experiences and influences good and bad, that I still draw on today in my art and attitude to life.
In contrast, while skating maybe made me more streetwise, surfing mellowed me out: taught me to have patience and enjoy anticipation, to respect nature, to seek and immerse myself in solitude, to be determined and alert, to thirst for travel and exploration and most importantly to do something for the pure joy of the moment and nothing else. This is the key for me because the best feeling but also the best art also comes from these moments of "flow", when you are completely lost in what you are doing.
The relationship between surfing and art – how does it come together for yourself?
Personally, I´m not sure there has been or is a very good relationship between surfing and art. A lot of the surf art I see is very cheesy and obvious and repetitive – this is understandable as, just like talking about surfing, it´s impossible to get across the true overwhelming reality of the sensation so we tend to fall into cliché and sound a bit dumb as people´s eye glaze over. I generally feel that surf culture wallows too much in nostalgia and tired imagery of hibiscus flowers and split-screen VWs.
There are some people doing things differently in various corners of the globe but these tend to be those who have other influences apart from the pure, typical surfing aesthetic.
It was very rare to see a video of surfing, but the skate mags, videos and aesthetic was strong so for me it was more skulls and snakes than blonde boys and hula girls.
For me it is the same – I started skating before I ever caught a proper wave so I think I was initially a lot more influenced by the punk DIY ethic / style of the 80s skating scene than surfing. When I was a teenager in the pre-internet UK there wasn`t really any access to surf media like there is now – a couple of mainstream mags, some zines and it was very rare to see a video of surfing, but the skate mags, videos and aesthetic was strong so for me it was more skulls and snakes than blonde boys and hula girls. I try to stay away from too much traditional surf imagery in my stuff as it tends to get cheesy, I´d rather immerse myself in nature, psychedelia, graffiti, music and literature, surrealism, imaginary characters, the dregs of pop culture, psychology, animation from my childhood – I tend to just soak up everything I see, read, hear or think then it comes out again in a new way, sometimes with a sea/surfing twist, when I rummage around my mind for ideas.
I think you are talking about the stuff that reaches the mainstream, the "surf-art-cliché". If you take a look at the "core" of surfing culture I think there is a close relationship between art and surfing, or let`s call it creativity. In other sports it´s much harder to find any relations to a DIY / Creative attitude. Do you think there is a reason for that?
Yes, of course sport and art don't generally sit well together, often artistic people and sporty types are at opposite ends of the spectrum especially in the all-important formative years. The reason to me is simple and goes back to what we talked about in question 5, that to a lot of us, surfing is simply not a sport-
I have never been a sporty or competitive person and that side of surfing doesn't interest me at all. For me it´s a fun, individual, expressive, meditative pursuit and lifestlye that just happens to be a physical activity. To some it´s a weekend hobby, to some a quasi-religion, to others just another pissing contest. I guess it just depends on your personality.
What I´m saying is surfing attracts all sorts, not just athletic "jocks" so there is bound to be more of a pool of creative people for something exciting to come out of it.
With skating I think this is even more so. Skateboarding forces you to use your imagination. Everyday skaters turn the ugliest, most derelict corner of the city or the worst corporate concrete hard-on into the most fun places to play just by looking at and using things a different way. As Craig Stecyk famously said "Two hundred years of American technology has unwittingly created a massive cement playground of unlimited potential. But it was the minds of 11 year olds that could see that potential."

Drawing Lines seems to be an reappearing element in your artworks and sometimes it looks like drawing them must be like a meditative process, really visible on your work "TWO STRAIGHT LINES" but also on "Big Hair Day" which I really like! Tell us a bit about the way you work and what kind of materials you like to use.
Yes, I guess I do find drawing lines quite therapeutic, especially watching them evolve under my hand, almost on their own. However, if I´m doing a big original in pen on paper it can be very nerve-wracking knowing that one slip will ruin the whole piece and hours of work. I often find I`ve been holding my breath for a whole minute while drawing and my hand is cramping up and my head aching from concentrating.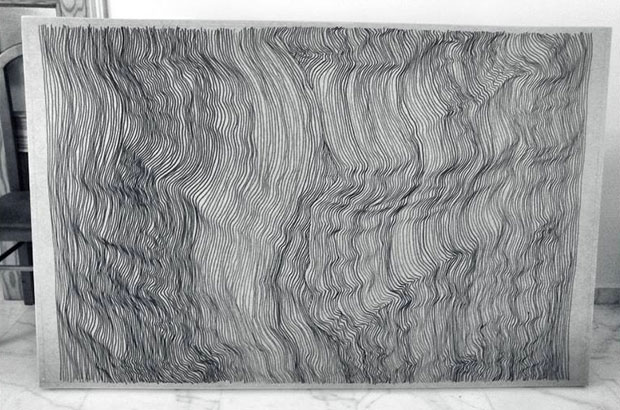 Mostly I sketch with a fine line pen on paper and then blow them up onto canvas or wood or a surfboard or whatever and use spray paint, household paint or acrylics and paint marker pens. I also use oil paints in a completely different style: mainly seascapes and semi-abstract sea/sky/land paintings – one day I´d like to try and bring these two very different styles together but I haven`t worked out how yet.
Tell us a few artists with a surf/skate-culture related background you like and we should check out:
I don't really like this question as there are too many people to mention and at the same time my mind has gone blank! Also my main influences tend to be from other fields, for example my three greatest heroes are not artists or surfers or skaters but: Laurie Lee who wrote a book that I read at 19 and I think changed my life forever, Bob Dylan, and explorer and anthropologist Thor Heyerdahl.
A good day at Vejer and around for you… How does it look like?
Well the reality of a family and work life means I don´t exactly live like this but I suppose an ideal day would start with a dawn surf on a nice long period swell at my favourite beachbreak or point. Then maybe a good Andalus breakfast of coffee and tostada con aceite y tomate at La Torre, overlooking the beach at El Palmar. After that, I´d pop in to see the good folks at nearby A-Frame surf camp who show and sell my work and maybe wander up to Homies surf shop to see if there´s any action at their beachside mini-ramp.
After some family time, a hearty lunch and a siesta, I should probably head up to my studio to draw and paint for a couple of hours before heading back to the beach for some evening glass and a couple of sunset cañas at El Cartero. Nightlife is a bit of a distant memory now I have a baby but a few copas y tapas with friends can often be squeezed in at Vejer´s new Mercado de gastronomia before heading home. Haha, I wish this all was true!
So would you like to tell us about your most recent artworks or any exciting projects you´ve got coming up soon?
Well, I´ve just finished doing a mural at a climbing Finca at El Chorro up in the mountains which was really intense but fun and has given me a taste for working on a larger scale. I´m just about to do a mural at A-Frame surf camp too. I get bored easily so I want to do something completely different: the wall is made of long planks of wood so I think I might make it into a grid and make a kind of big lo-res pixelated illustration inspired by the computer games of my childhood.
I´ve also just been working with a Peruvian surf brand called Sundried on some teeshirt designs so am looking forward to seeing them printed and up for sale. I´m always on the look out for new collaborations with people with different skills like the soft toy characters that we made from my illustrations with The Tip Top Monster Shop and the laser-etched wooden handplanes I made with Thirdshade.
Best of all we´ve just launched Concrete Sketchbook which is a curated online portal for what you might call "independent urban art" with loads of prints, original artwork and art-furniture for sale. It´s early days yet but we´re adding new artists and products all the time and I think it´s going to be a really good hub for people looking for something affordable but a bit different.
Droog79, Droog79 on Facebook and his alter ego  Ed Milsom